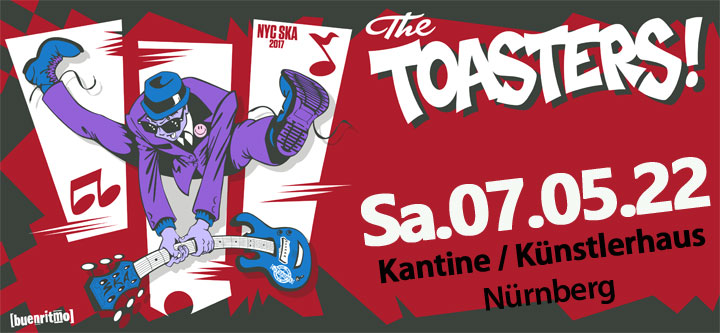 Support: Melonball
Samstag, 07.05.2022
Kantine, Künstlerhaus, Nürnberg
Doors: 20.30 Uhr
Start: 21.00 Uhr
Präsentiert von Rcn_nuernberg!
> > > Tickets direkt über den Eat-The-Beat Kartenkiosk bestellen
Bereits erworbene Tickets behalten ihre Gültigkeit.
The Toasters sind eine Legende!
Endlich wieder live in Nürnberg, The Toasters!
Seit nunmehr 36 Jahren im Geschäft, haben sie die Two Tone Ära eine Weile fast im Alleingang am Leben erhalten. Darüber sind sie zu Recht Ikonen geworden.
Doch der Reihe nach: 1981 von Exil-Engländer Rob 'Bucket' Hingley an der Lower East Side Manhattans gegründet, strahlt der Toasters-Sound aus World-Beat, Soul, Rap, Rocksteady, Reggae und Ska mit Rock- und Punkeinflüssen heller, als der so ziemlich jeder anderen Ska-Band.
Kein Wunder, sind die New Yorker doch durchwegs grandiose Musiker, die ihren Kunstwillen unter anderem mit tollen weiteren Bands wie etwa dem New York Ska Jazz Ensemble ausleben.
Die Band um Mastermind Rob Hingley war in den letzten Jahren zweimal bei uns zu Gast, und es war jedes Mal ein besonderer Abend mit unzähligen Hits. Ska Ska Ska!
Support: Melonball – melonic Punk Rock aus Nürnberg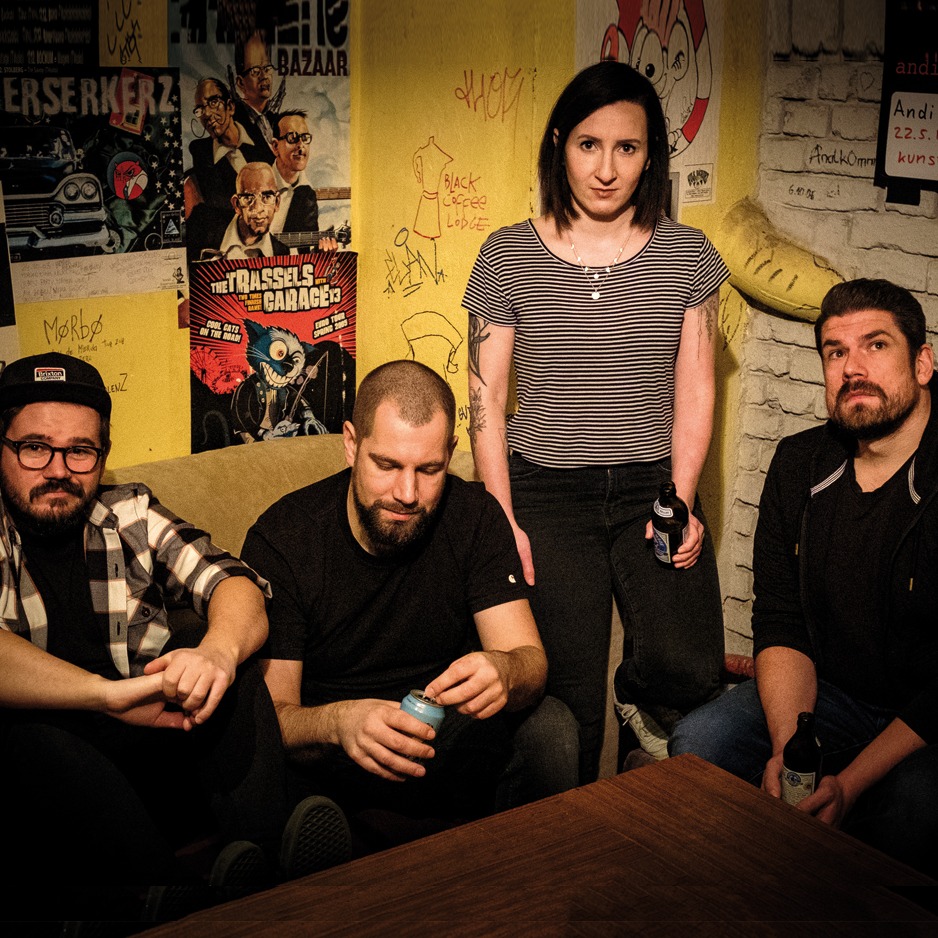 photo: Patrick Wolfmar
Bei Eat-The-Beat Shows ist kein Platz für Rassismus, Sexismus, Homophobie und sonstige geistige Verwirrungen.

Einlass unter Vorbehalt!

WICHTIG!! Sollte es am Konzerttag noch zu Einschränkungen bez. Covid 19 kommen, gilt die zum Zeitpunkt des Konzerts gültige Bayerische Infektionsschutzmaßnahmen Verordnung.
1. Mai87 – 9/11 YOUTH – 16 HELL VENTILER – ACHT EIMER HÜHNERHERZEN – ADOLESCENTS – AEROBITCH – AGAINST ALL AUTHORITY – AGE OF WOE – AGENT ORANGE – ALL ABOARD! – AMEN 81 – ANTIPEEWEE – ÅND – APT. 3 G – ARLISS NANCY – ARMS ALOFT – ARMS LIKE SNAKES – A STATE OF GRACE – ASTPAI – AT THE DRIVE IN – ATOA – ATTENTION! ROOKIES – AUTORAMAS – AWKWARD HAPPENINGS – AVERTINE – AWESOME GREY – BACKSTREET NOISE – BAD COP / BAD COP – BADGEWEARER – BAIT – BAMBIX – BANGERS – BANNER PILOT – BENZER – BERLIN BLACKOUTS – BETA MINUS – BETTY RUTH – BISHOP EN CULER – BISHOPS GREEN – BLACKFIRE – BLACKLISTED – BLACKSMOKER – BLENDWERK – BLITZ BABIES – BLOWFUSE – BLUETIP – BOXHAMSTERS – BRAND NEW UNIT – BRICKWATER – BUSTER SHUFFLE – BRING BACK BARBARA – CAMERON – CAPDOWN – CARNATION – CHERRY BOMB – CHOREBOY – CHUNG – CLAYFACE – CLUSTER BOMB UNIT – COLD BY WINTER – COLUMBIAN NECKTIES – CONFUSED – COUGARS – COUNTERPUNCH – CRANIAL – CRAZY CANDIDATES – CREMASTER – CRIME KAISERS – CRISPY JONES – D.O.A. – D.E.A. EXPERIENCE – DEAD CITY ROCKETS – DEAD MAN´S HAND – DEATH BEFORE DISCO – DEATH BY HORSE – DEATHRITE – DECON – DEE CRACKS – DEEP – DER RAKETENHUND – DESERTED FEAR – DESTINY – DIE DORKS – DIE HITCHHIKERS – DIE STRAFE – DIRECT HIT! – DISTRICT – DOCTOR BISON – DOG FOOD FIVE – DOUBLE U SEE – DRAG ARM STAGGIN – DRITTE WAHL – DRIVING THE SALT – DUESENJAEGER – DUMBELL – EA80 – EARTH SHIP – EL GUAPO STUNT TEAM – ELSE ADMIRE & THE BREITENGÜSSBACH DOLLS – ELWAY – EMILS – EUGENE RIPPER – EVIL BEAVER – FAINTEST IDEA – FALLING SICKNESS – FAR FROM FINISHED – FASHION WEEK – FAT BY THE GALLON – FAT RELIGION – FAT TONIES – FATTY JONES – FEMALE TROUBLE – FEW MINUTES FREW – FIFI – FIGHTS AND FIRES – FLAG OF DEMOCRACY – FLAT STANLEY – FLIEHENDE STÜRME – FORMER CELL MATES – FRENZAL RHOMB – GENERATION BREAKDOWN – GET DEAD – G.G. ELVIS & THE TCP BAND – GIUDA – GLASSASS – GOODBYE FAIRGROUND – GOOD RIDDANCE – GORILLA MONSOON – GOTT & DIE WELT – GRAUE ZELLEN – GRIM SKUNK – HALFWAY DECENT – HAMMERHEAD (US) – HELL & BACK – HELLSUCKERS – HENRY FIATS OPEN SORE – HERE LIES A WARNING – HI TERESKA – HIEROPHANT – HINDSIGHTS – HIROSHIMA MON AMOUR – HOMBRE – HORACE PINKER – HOTEL ENERGIEBALL – HOUSE PARTY – HUMAN HAMSTER HYBRIDS – HWS – HYENAS – IMMURED – IMPLORE – INDICATE – INSPECTOR PO – IN ARCHIVES – IRISH HANDCUFFS + IRON WOLF – JACK BLACK – JAWMONKS – JAYA THE CAT – JEFF DAHL – JERK FRONT – JIMMY KEITH & HIS SHOCKY HORRORS – JOE MCMAHON – JOEY CAPE – JOHN COFFEY – JOHN SCHOOLEY & HIS ONE MAN BAND – JOHNNY REGGAE RUB FOUNDATION – JONES – KACHEL – KAFKAS – KAUFKRAFT – KDC – KEIN HASS DA – KENTUCKY BRIDGEBURNERS – KEVINS CAMPFIRE – KICK JONESES – KING LUI VAN BETHOVEN – KIPPEN – KLOTZS – KNOCHENFABRIK – KOETER – KORT PROSESS – KURT – LADGET – LAURA MARDON – LEIDKULTUR – LEGAL WEAPON – LIFE´N NATURE – LISTENER – LIZA & KAY – LONG TALL SHORTY – LOST LOVE – LOVE SANDWICH ORCHESTRA – LOWBROWS – LOW DERIVE – LUSCA – M.D.C. (MILLIONS OF DEAD COPS) – MALM – MANTAR – MASKED INTRUDER – MATULA – MC CARTHY BLACKLIST – MEANBIRDS – MEGAPHON – MILITANT – MIOZAN – MISCHIEF BREW – MING CITY ROCKERS – MOBINA GALORE – MOFAGANG – MONEY LEFT TO BURN – MONGREL BITCH – MONOKINI – MOORAT FINGERS – MORNE – MR. T EXPERIENCE – MUFF POTTER – MYLOWZ – NAKED AGGRESSION – NEW WAVE HOOKERS – NO FUN – NO FUN AT ALL – NINE DAYS WONDER – NO GOD INNOCENT – NOIHAUS – NOTHINGTON – NRA – N.T.B.A.- NULLSKATTESNYLTERNE – ODD ONE OUT – OF MOUNTAINS AND SEAS + OFF WITH THEIR HEADS – OH MARITA – OIRO – ONE TWO DIGITS – ONETWOTHREEFOUR – ORDOS – OVERFLOW – OVERPRIVILEGED – PALE – PALE ANGELS – PANTEON ROCOCO – PASCOW – PATENTBLAU 5 – PEPPERMINT BETTY – PEPPONE – PERDITION – PHANTOM WINTER -PICO TRIP – PILOT TO GUNNER – PLUTO23 – POISON IDEA – POISON IDOLS – PRIMETIME HEROES – PROFIT & MURDER – PRO CYCO H – RADIO HAVANNA – RANK MIASM – RANZ BÖLLNER & THE HEAVY METAL WARRIORS – RAT CITY RIOT – REAL & PLEITE – RED MESKALIN – RED CITY RADIO – REDENSART – REGURITATED – REHASHER – REMOVAL – RESIST THE OCEAN – RESOLUTIONS – REVOLVERS – REVEREND REEFER – RHYTHM ACTIVISM – RIVERBOAT GAMBLERS – RIFU – ROBERT – ROCK´N`ROLL STORMTROOPERS – ROMAN S. – SAINT´N SINNERS – SAINT VITUS – SCALLWAGS – SCRAPY – SENGA – SEVEN SIOUX – SHAKIN NASTIES – SHE-MALE TROUBLE – SHEER TERROR – SHOCKS – SILENCE OF THOUGHTS – SILVER TONGUED DEVIL – SKIN OF TEARS – SKINNY NORRIS – SKYLINE GREEN – SLEIM – SMOKE OR FIRE – SOCIAL DISTRUST – SO MUCH HATE – SPACE CHASER – SPÄTZLESDRECK – SPERMBIRDS – SPITTING OFF TALL BUILDINGS – STALINGRAD – STORM THE CLOUDS – STEAKKNIFE – SUBURBAN SCUMBAGS – SUBZERO TOPDOGS – SUNSHINE – SUN WORSHIP – SUPERFAN – SWALLOW´S ROSE – SWINGIN' UTTERS – SWOONS – SWORN IN – TAGTRAUM – TANKARD – TAXDODGERS – TEAM COBRA – TEENAGE BOTTLEROCKET – THEE IRMA & LOUISE – THE AGGROLITES – THE AMISTAD – THE ART – THE ATOM AGE – THE BABOON SHOW – THE BERLIN BLACKOUTS – THE BOONARAAS – THE BREAK – THE BROKEN JUG – THE BUCKWEEDS – THE COFFINSHAKERS – THE COWSLINGERS – THE DEAD BROTHERS – THE DEHYDRATORS – THE DEVIL´S DANDY DOGS – THE DICTATORS NYC – THE DUVALS – THE FLATLINERS – THE FREEZE – THE GARBAGEMEN – THE GO FASTER NUNS – THE GUILTY HEARTS – THE HIGGINS – THE HUNTERS – THE HOLY KINGS – THE INTERRUPTERS – THE JETLEGS – THE JUPITERZ – THE LAST GANG – THE LOMBEGO SURFERS – THE MANIX – THE MOVEMENT – THE MOVEMENTS – THE MURDERBURGERS – THE NERVES – THE OCEAN – THE ONE DROPPERS – THE PEPPERMINT BETTYS – THE ROCKIN´LAFAYETTES – THE ROMP – THE RUN UP – THE SCANDALS – THE SHOCKER – THE SEIZURES – THE SEWER RATS – THE SNIPS – THE SPECIAL BOMBS – THE SWANKERS – THE TOASTERS – THE TURBO AC´S – THE UPRISING – THE VALKYRIANS – THE VAMPIRE LESBIANS OF SODOM – THE VOID UNION FEAT JR THOMAS (DROPSTEPPERS) – THE YOOHOOS – THEE INFIDELS – THIGHT BROS. FROM WAY BACK THEN – THIS IS HELL – TIUANA BIBLES – TIMESHARES – TINTA LEAL – TODAY IS THE DAY – TOMLEFTMARYBLEEDING – TOMTE – TOXIC BONKERS – TOY GUITAR – TREND – TRIBUTE TO NOTHING – TWO MINUTES APPEAR – TYPESETTER – UNCOMMON MEN FROM MARS – UNDERCLASS – UKULELE INSANITY – VAL SINESTRA – WALT HAMBURGER – WEAK WILLIES – WESTERN SETTINGS – WHISKEY DAREDEVILS – WHITE FLAG – WILLIE WONKAS – WIEGEDOOD – WONK UNIT – WORST ADVICE – YOTAM BEN HORRIN (USELESS ID) – ZWEI TAGE OHNE SCHNUPFTABAK, und noch viele mehr…